FeldenWHAT? The Feldenkrais Method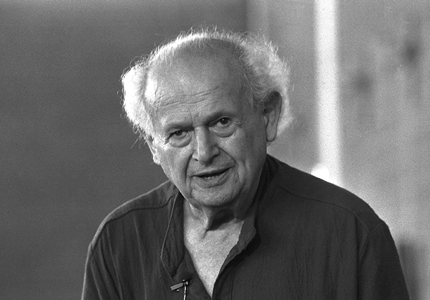 The Feldenkrais Method lets you experience your own potential by exploring your body through gentle movements. You can improve your movements and (re)gain comfort and ease.
It is named after its originator, Moshé Feldenkrais (1904-1984), an engineer and physicist as well as a Judo teacher.
Feldenkrais classes are helpful for you:
Relief from tension and muscular pain
Easier and fuller breathing
Greater relaxation and well-being
Improved performance in sport, dance, music and drama
Greater ease in everyday activities
Increased vitality
…
---
"Awareness Through Movement lessons are designed to improve ability, that is, to expand the boundaries of the possible, to turn the impossible into the possible, the difficult into the easy and the easy into the pleasant."

Moshe Feldenkrais, D.Sc.
More quotes by Moshé Feldenkrais here.
---
Do you like my little series of Felden-WHAT?-visuals? On my FB page 'Moving Experience' you'll find more visuals with interesting facts about the Feldenkrais Method.
---
UK Guild Certified Feldenkrais Practitioner Bärbel Rücker
After 4 years of Feldenkrais Practitioner Training in Switzerland I am a certified Feldenkrais Practitioner and ready to share my knowledge about this amazing method.
With regular participation of advanced Feldenkrais Trainings I am keeping me up to date. And if possible I am joining the daily Feldenkrais practitioner study-group "An AY a Day" organised by Kwan Wong, San Francisco for my own development.
Explore the benefits of the Feldenkrais Method with me:
An other good place to look for the running classes and upcoming workshops is the Event section of Moving Experience (FB page).
 Subscribe to my mailing list and be informed about upcoming classes & workshops! 
What to expect in Feldenkrais classes
Awareness Through Movement (ATM)
The Feldenkrais group classes are called Awareness Through Movement classes. These ATM classes are non-strenuous and suitable for all ages.
Get an idea of what to expect in an Awareness Through Movement (ATM) Class. The video is produced by the Feldenkrais Guild UK.
Functional Integration (FI)
Functional Integration (FI) Feldenkrais lessons offer an individual way of working one to one. It is like a dance of two nervous systems together in search of ease and possibilities.
This is an effective approach for learning and changing habits, and it is particularly effective when combining it with ATMs.
You'll find more videos about The Feldenkrais Method on my YouTube Channel 'Moving Experience'.
 Subscribe to my mailing list and don't miss out on special offers! 
Testimonials
"My neck had much more freedom today Bärbel after Thursday nights session so thank you so much. Tinnitus still ringing but hopeful that will improve with more sessions. Bring on the Feldenkrais."

Julie J., 9th May 2019
"I joined the workshops Bärbel offered at Tango Feast and found them to be so very helpful in relaxing my feet and my body so that felt I just danced like an angel for the whole 4 days and nights. Bärbel generates a relaxed and friendly atmosphere and injects warmth and humour into proceedings. I am looking forward to the next time! Thanks Bärbel! X"

‎Pamela N., 1st February 2019 (Move Better with Feldenkrais Workshops @ Tango Feast Christmas edition 2018)
"The hip work we did with your guidance definitely helped, I was grounded and felt very balanced. I have noticed that I'm walking and holding myself in a different way now. Thank you Barbel, I'm looking forward to doing more! "

Sousa H., 9th November 2018 (many ATMs)
"Highly recommend Barbel classes and one to one's."

Maxine S. , 30th August 2018 (many ATMs, 1x FI)
Testimonials in German
"Es ist doch sehr erstaunlich, was Feldenkrais bewirkt. Ich hatte vorher immer nur ein bisschen davon gehört, mich aber nie wirklich damit beschäftigt. Nun fließen viele kleine Details in meinen Alltag und bereichern meine Achtsamkeit für mich und meinen Körper.

Dafür bin ich dir sehr dankbar.

Meine unbewegliche Schulter lernt fleißig dazu und wird zunehmend flexibler. Viele Therapeuten arbeiten daran und es wird besser. Aber es geht oft mit Schmerzen einher und dann denke ich immer an dich und weiß: Stopp! Keine Schmerzen! Niemand lernt unter Schmerzen, auch nicht die Muskeln. Und dann lasse ich das auch nicht mehr zu. Das habe ich dir zu verdanken. Viel zu oft lasse ich Dinge zu, die mir nicht gut tun.

Dank deiner Anregungen bin ich aufmerksamer geworden, merke meine Anspannung und sage mir sofort in solchen Situationen: "Jaw!". Das hilft so sehr die eigene Anspannung zu spüren und sie gehen zu lassen. Fantastisch. Und sofort bin ich bei mir und achte viel mehr auf mich. "Jaw" hilft auch sofort in kleinen Alltagssituationen und bringt so manche Beziehungsszene in eine lustige Stimmung. Kein verärgerter Ehemann mehr, wenn ich ihm nur "Jaw!" zuflüstere, sofort sind Spannungen weg und ein Lächeln kommt dazu. Das ist sehr schön. Vielen Dank auch für die Übungen, die meiner Beweglichkeit dienen. Es sind die vielen kleinen Dinge, die es zu beachten gilt. Und es ist so leicht,sie in den Alltag zu integrieren. "

Anna S., 19th October 2018 (1x ATM, 1x FI)
---
Questions & Bookings
Moving Experience
Bärbel Rücker
+ 44 (0) 7474 612701
info (at) movingexperience (dot) eu