Thank you Christina Petersen Mihresel for the opportunity to present myself and my passions on your ConmotoPetersen Podcast. It was the first time I was invited to a podcast and after saying YES to it I had enough time to get nervous about it.
On Saturday 7th July 2019 we made it happen and I enjoyed the process very much. The result you'll find below. Enjoy!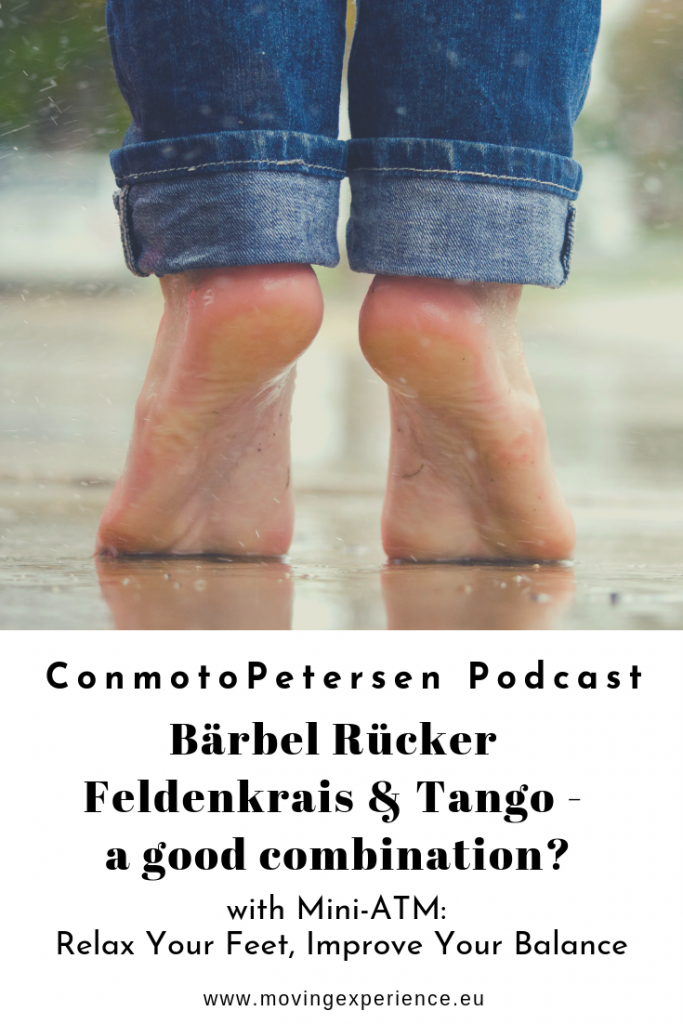 The ConmotoPetersen Podcast
The ConMotoPetersen Podcast gives an overview about the vast variety of Feldenkrais Practitioners and their personal approach to this fascinating method as well as clients speak about their experiences too.
Christina Petersen, the founder of the Conmoto Podcast, is fascinated by the Feldenkrais Method since she joined her first group lesson in the late 90's. As a result of this fascination she became a Feldenkrais practitioner herself and runs now her own Feldenkrais practice in Lübeck in the North of Germany. In addition she works as an Assistant Trainer in Feldenkrais practitioner training programs as well as giving online Feldenkrais classes.
The Podcast Episode – Feldenkrais & Tango

The ATM "Relax Your Feet, Improve Your Balance" starts at 29.53 min.
You'll need a chair to sit on and to get the most out of it I recommend to take your shoes off.
IN THIS EPISODE, YOU'LL HEAR ABOUT THINGS LIKE…
My background in academics and nutrition made me the person I am now.
How Feldenkrais can influence the way you move.
Depending on the focus in the Argentine Tango classes the things you learn might even reflect into your daily life.
Come with your curiosity and a chair to sit on and join my Awareness Through Movement lesson "Relax Your Feet, Improve Your Balance". This is a method you want to experience yourself.
SOME QUESTIONS I GOT ASKED BY CHRISTINA…
When did you first encounter the Feldenkrais Method?
Do you see special advantages for tango dancers to explore the Feldenkrais Method?
Which Feldenkrais Awareness Through Movement (ATM) lesson do you want to present now?
LINKS FROM THE INTERVIEW:
WHAT DO YOU THINK?
I'd love to hear your thoughts on this episode. Have you tried the Feldenkrais class in the middle? Have you struggled with your balance in daily life or in dancing (tango)?
DO YOU WANT MORE?
Would you like to experience more of my teaching? Sign up for my newsletter HERE and I will keep you informed!
---
More Feldenkrais & Tango on Moving Experience