FeldenWHAT? The Feldenkrais Method
The Feldenkrais Method lets you experience your own potential by exploring your body through gentle movements. You can improve your movements and (re)gain comfort and ease.
It is named after its originator, Moshé Feldenkrais (1904-1984), an engineer and physicist as well as a Judo teacher.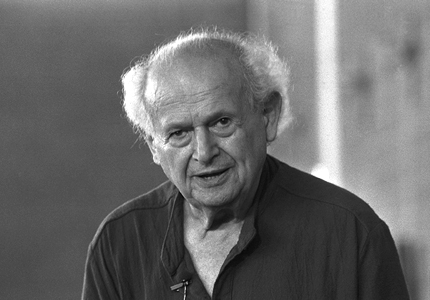 Feldenkrais classes are helpful for you:
Relief from tension and muscular pain
Easier and fuller breathing
Greater relaxation and well-being
Improved performance in sport, dance, music and drama
Greater ease in everyday activities
Increased vitality
…
"Awareness Through Movement lessons are designed to improve ability, that is, to expand the boundaries of the possible, to turn the impossible into the possible, the difficult into the easy and the easy into the pleasant."

Moshe Feldenkrais, D.Sc.
More quotes by Moshé Feldenkrais here. Weitere Zitate von Moshé Feldenkrais hier.
---
UK Guild Certified Feldenkrais Practitioner Bärbel Rücker
Since 2017 after 4 years of Feldenkrais Practitioner Training in Switzerland I am a certified Feldenkrais Practitioner and ready to share my knowledge about this amazing method.
With regular participation of advanced Feldenkrais Trainings I am keeping me up to date. And if possible I am joining the daily Feldenkrais practitioner study-group "An AY a Day" organised by Kwan Wong, San Francisco for my own development.
Explore the benefits of the Feldenkrais Method with me:
An other place to look for the my classes and workshops is the Event section of Moving Experience (FB page).
---
Experience The Feldenkrais Method with Bärbel
If you never have heard about the Feldenkrais Method you are probably wondering what to expect in Feldenkrais classes.
The Feldenkrais group classes are called Awareness Through Movement classes (ATM). These ATM classes are non-strenuous and suitable for all ages. My seated morning classes Stay Mobile and Beweglich bleiben offering a gentle way into the Feldenkrais Method. If the floor is your friend join the Move Better course. We are exploring movements in different orientations on the floor.
Private Feldenkrais Classes are called Functional Integration (FI) and offer an individual way of working one to one. It is like a dance of two nervous systems together in search of ease and possibilities. This is in particular an effective approach for learning and changing habits, and it is particularly effective when combining it with ATMs.
You'll find videos about The Feldenkrais Method on my YouTube Channel 'Moving Experience'.
---
Are you wondering if I would be a good fit for you teacher wise?
What my students say about me
Finding the right teacher when you want to learn something new or improving your skills can take time. Hearing about the experiences of other students helps.
Those testimonials hopefully give you a better impression of what to expect when working with me.
---
Questions & Bookings
Does that sound interesting for you? Get in CONTACT and we find out how you could benefit most from my classes. I am looking forward to hearing from you.
---
Feldenkrais Visuals by Moving Experience
In order to spread the word about the benefits of The Feldenkrais Method I am creating visuals. Some of my favourites are those. More to come soon.
Do you like my little series of Felden-WHAT?-visuals? On my FB page 'Moving Experience' and on Instagram you'll find more visuals with interesting facts about the Feldenkrais Method.
---
Join the Moving Experience community and sign up for the newsletter!
---