Finding the right teacher when you want to learn something new or improving your skills can take time. Hearing about the experiences other students have made can help. Those following Tango testimonials might give you a better impression of what to expect when working with me.
Are you looking for a place where you can learn Argentine Tango? Or are you feeling stuck in your own tango journey.
Since 1998 I have taught Argentine tango and have helped many dancer to connect more to the music and to their dance partner. Here I have collected some of the feedback I have got from my tango students. I hope you'll find them helpful.
Tango Testimonials

Firstly, we thoroughly enjoyed our lesson yesterday and came away feeling excited and exhilarated by the prospect of the Tango journey we have started. In particular, we really enjoyed your teaching style together with your depth of knowledge and clear passion for the dance. Thank you.

Marina & Stan
Much appreciated your presence. Private lesson was exceptional due to the way you tune with us. We're already experiencing the change and improvement and most of all more fun. Take care.

Giovanni S.
For at få en førsteklasses introduktion til det argentinske tangounivers, bookede vi en privat undervisningtime med Bärbel. Det var både sjovt, lærerigt, udfordrende og meget brugbart. Efter kun én time med god instruktion i musikken, rytmerne, de første trin, tangostemningen m.m. kunne vi forsætte dansen alene hjemme i køkkenet. Bärbel er en virkelig dygtig og inspirerende danseinstruktør, det formår at tilpasse undervisningen et hvert niveau. Vi vil helt sikkert igen prøve kræfter med den argentinske tango. Tak for en god aften!

Rikke og Mikkel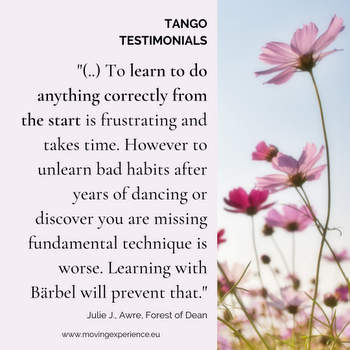 "Amazing Argentine tango class last night at the Old Bream infant school with teacher Bärbel Rücker. All about axis, connection, weight change and much much more.

Bärbel has a great teaching style and is able to give something to each of us. The 2 classes consisted of complete beginners, improvers and intermediates and yet she was able to 'give' something to each of us.

To learn to do anything correctly from the start is frustrating and takes time . However to unlearn bad habits after years of dancing or discover you are missing fundamental technique is worse. Learning with Barbel will prevent that."

— Julie Jenkins, Nov 2016
---
"It's easy to be enthusiastic with such helpful and relaxed teaching. I really feel I'm learning the basics of this dance and can't wait to learn more. If anyone wants to learn this dance and has stopped and started and felt overwhelmed like me, then Bärbel Rücker has the perfect style of teaching."

— Carolyn Baldwin
---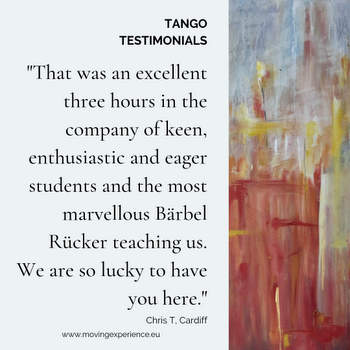 That was an excellent three hours in the company of keen, enthusiastic and eager students and the most marvellous Bärbel Rücker teaching us. We are so lucky to have you here.

— Chris T., Cardiff (Argentine Tango Workshop – Twizzle Your Tango 31st August 2019)
---
Tango is not only a dance but a language. The Leader "communicates" to Follower the intention to move in any direction and in a variety of ways through subtle movement. Bärbel gets you speaking the language of Tango quickly and thoroughly.

What makes her stand out from nearly all other teachers is that instead of teaching routines/figures, she teaches the principles behind Tango steps which you are then encouraged to put together in any number of combinations. Your own choreography if you will. Learning routines as with other teachers is a disadvantage. Unless you meet someone who has learned the same routine you can only ever dance with the partner you learned it with!

Tango, the way Bärbel teaches can be danced with any other Tango dancer. As an example; with a new language you can learn specific phrases for specific situations. Meet a situation you haven't a phrase for and you're stuck! Bärbel teaches how to construct sentences giving you the freedom to construct your own sentences for every situation at an early stage in your development.

I recommend Bärbel without hesitation. The first steps with Bärbel are the Tango Walk the basis of all Tango. If you can walk, you can dance Tango!

— Chris Cutting – Recruitment Consultant/Business Owner
---
Feldenkrais & Tango Testimonials
The Feldenkrais Method is highly beneficial when it comes to body awareness and movement. In some places I have already offered combined Feldenkrais & Tango classes or specific Feldenkrais classes for tango dancers. Here are some of the feedback I've got afterwards.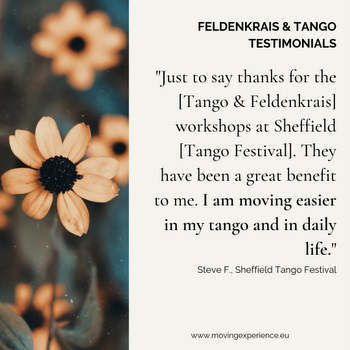 "Just to say thanks for the [Tango & Feldenkrais] workshops at Sheffield [Tango Festival] they have been a great benefit to me I am moving easier in my tango and in daily life"

— Steve F., May 2019  (Tango & Feldenkrais Workshops @ The Sheffield Tango Festival 2019)
---
"For any of you who knows little or next to nothing about Feldenkrais, Bärbel's workshops are amazing! I was lucky enough to take part in one of the sessions and was impressed by how effective the movements were.

I would recommend any of the workshops, but in particular the ones relevant to tango for all of you keen to improve your posture in the dance."

— Linda Okuniewska
---
More Tango on Moving Experience