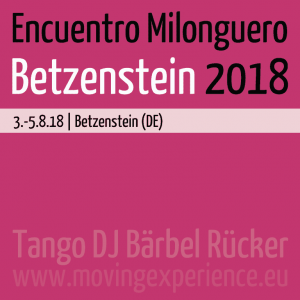 I am very much looking forward to join the DJ team of the Encuentro Milonguero Betzenstein 2018 for the 3rd time in a row. 
My video from my first DJ set in 2016.
Encuentro Milonguero Betzenstein
3rd-5th August 2018
The venue is part of the Abenteuerpark Betzenstein in the south of Germany. Everything is open-air and it works!
At the 5th edition of the Encuentro Milonguero Betzenstein the outdoor dance floor will be protected by their new "geodome".
The event is gender balanced and limited to around 100 participants.
There will be four milongas and an afterparty.
Your DJ team for 2018:
Bärbel Rücker,
Falk Ruckruh,
Paul Strudwick and 
Sascha Weinberger.
BREAKING NEWS
The registration is open again until the 17th June 2018. Don't miss out!
Registration opens on the 16th February 2018. The price is 110€ including meals and a campsite space.
Register here (if you speak German) otherwise please register via christof (dot) mahler (at) icloud (dot) com.
Freitag
ab 17:00 Uhr: Anreise, Ankommen, Zelt-Aufbau etc.
ab 21:00 Uhr: Auftaktmilonga mit DJ Bärbel
Samstag
11:00-14:00 Uhr: Frühstück
14:00-19:00 Uhr: Nachmittagsmilonga mit DJ Sascha
19:00-21:00 Uhr: Feuerküche, leckeres aus Holzofen und Feuertopf
ab 21:00 Uhr: Abendmilonga mit DJ Paul
Sonntag
11:00-14:00 Uhr: Brunch
14:00-19:00 Uhr: Abschiedsmilonga mit DJ Falk
19:00 Uhr: Abschlussessen und Ausklang
ab 21:00 Uhr: After-Party-Milonga mit DJ Duo Bärbel & Paul