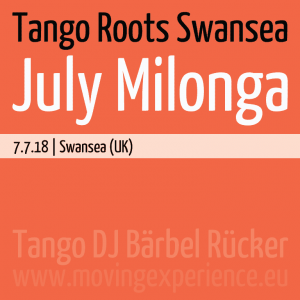 Lovely! The year 2018 comes up with a lot of first time DJ opportunities for me! For the first time I will be going to Swansea to DJ at the Swansea July Milonga on Saturday 7th July 2018.
This event is organised by Annalise Richter (Tango Roots) in cooperation with Tango Essence.
We discussed the option of presenting our Tango DJ Workshop 'Tango, Tandas and Technology' during this weekend but as the schedule is already packed, it will have to be another time. Please drop me a line (info@movingexperience.eu) in case you would be interested in such an opportunity.
Swansea Milonga with DJ Bärbel
The Swansea July Milonga is part of a workshop weekend with Joël Rodrigues. More information can be found on the special 'Tango Roots Events' page on Tango Essence's recently re-built website.
Schedule Swansea Milonga & WS Weekend
Saturday 7th July 2018
at Sketty Baptist Church, 36 Carnglas Road Sketty, SA2 9BP
Workshop 1: 1.00 – 2.20pm
Workshop 2: 2.40 – 4.00pm
Practica: 4.00 – 5.30pm
Free beginners class with Annalise: 5.30 – 6.00pm
Milonga with DJ Bärbel Rücker: 6.00 – 10.00pm
Sunday 8th July 2018
at Hazel Court Sketty Park, SA2 8BP
Workshop 3: 12.00 – 1.20pm
Workshop 4: 1.40 – 3.00pm
Practica: 3.00 – 4.00pm
Pricing
Milonga
£10 without workshops
£8 with workshops
Workshops with Joël Rodrigues
Please check FB event and website. You'll find the links below.
The Venue
Sketty Baptist Church, 36 Carnglas Road Sketty, SA2 9BP
Further Information
---
Latest Posts