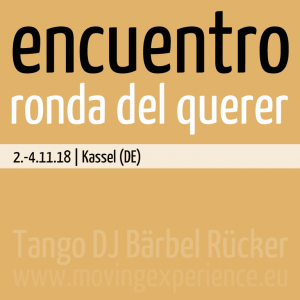 For the 8th time the Encuentro Milonguero ronda del querer will take place in Kassel. For the first time I will have the pleasure to join the DJ team. The event is organised by Susanne & Amir Helalat (TANGO Querido Kassel).
Listen to the vals 'Ronda del querer' by Francisco Canaro with singer Carlos Galan (21/09/1934).
Encuentro Ronda Del Querer Kassel – 2nd-4th November 2018
The organiser describes the event as follows:
ronda del querer is a tango milonguero event exclusively for the Milongueras and Milongueros who love the music of the Golden Age and appreciate and respect the Códigos of the milongas as in Buenos Aires , observe and follow.
The Códigos of the milongas are as follows:
We want to dance in the ronda,
to respect the room of other couples,
Cabeceo and Mirada – to invite by eye contact,
stay in the line of dance during a Tanda,
to avoid high flying legs,
if you appreciate this atmosphere, then you are our guest at our ronda.
For the musical enjoyment, selected Djs and Djanes, who will perform from Friday to Sunday.
The idea is to participate in all milongas. This creates a common dance experience.
We " TANGO Querido " love and appreciate the music of the Golden Age ( 30s – 40s ) and dance in close embrace ( Apilado ) . We want our event is characterized by a pleasant and hassle free stay. Therefore, we accept at our "ronda del querer " only Milongueras and Milongueros, who respect, follow and observe these Códigos.
We hope you'll understand and agree.
Ronda Del Querer DJ Team
Thursday 1st November 2018
20:00-23:30 Susanne Helalat . jueves de milonga
Friday 2nd November 2018
15:00-18:30 N.N. apertura milonga
21:00-02:00 Bart Wijgergangs . viernes por la noche
Saturday 3rd November 2018
15:00-18:30 Joost Brunsting . sábado por la tarde
21:00-02:00 Bärbel Rücker . sábado por la noche
Sunday 4th November 2018
12:00-16:00 Christine Frühauf & Torsten Krück . despedida
Registration
The registration opens on Friday 18th May 2018 at 9 pm UTC +2.
Venue
H4 Hotel Kassel, Baumbachstraße 2, 34119 Kassel, Germany
Further Information
---
Latest Posts