Treat yourself. Recharge at the weekend. Work out from home. Meet likeminded people.
When was the last time you listened to yourself? Is your body trying to catch your attention with aches and pains?
The definition of insanity is doing the same thing over and over again, but expecting different results.
Does this quote sound familiar to you? I invite you to try a different approach The Feldenkrais Method to turn your life around. With these monthly Online Feldenkrais Workshops you'll take the first step in the right direction.
These Feldenkrais workshops are especially for you if you:
are curious about The Feldenkrais Method (no Feldenkrais experience needed),
want more Feldenkrais in your life (they go well with weekly group classes and privates),
can only fit weekend activities in your busy calendar,
want to take control over your life and feel better.
Spend 90 minutes discovering new movement patterns. Calm yourself down and get grounded a good way. You will work out your body and mind in a very different way to the usual exercising classes. Be prepared to see a different result. Reducing tension and finding more enjoyable ways of moving will give you the life back you want.
After each workshop you'll get the option to download the audio recording of the lesson so you can work through the lesson again at your own convenience.
This is the Feldenkrais Workshop Program in 2021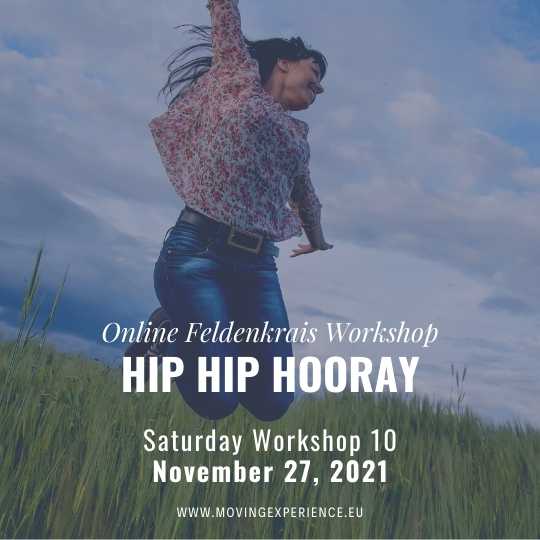 Saturday WORKSHOP
November 27, 2 – 3.30 pm GMT
Hip Hip Hooray
Improve important body functions to move safer in the world.
Help yourself to a better stand. Improve your walking, dancing, performing with unusual movement explorations.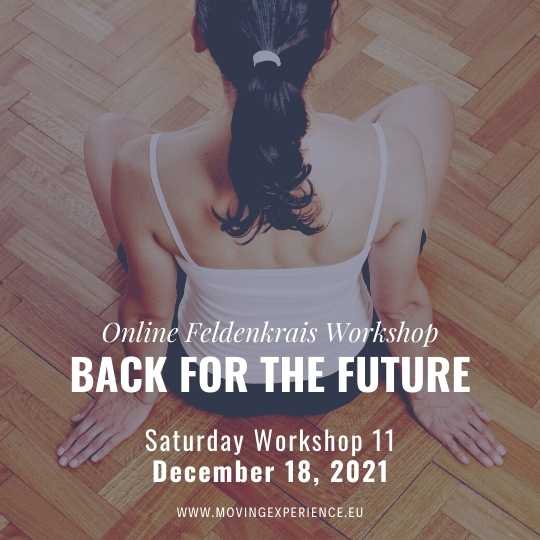 Saturday WORKSHOP
December 18, 2 – 3.30 pm GMT
3rd Saturday
Back For The Future
Reduce your aches and pains with the help of the Feldenkrais Method.
Get you back fit for the future. We will concentrate on improving the organisation of your back.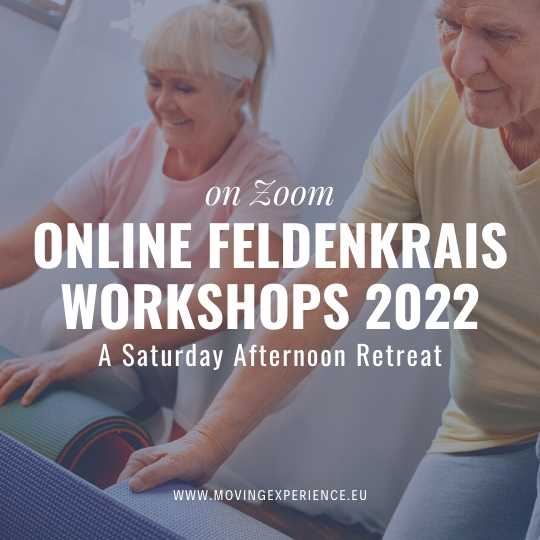 More Workshops in 2022
The monthly online Feldenkrais workshops will continue in 2022. If you would like to hear first hand about:
when the registration opens,
special early bird offers for my newsletter subscribers,
your opportunities to work with me,
I recommend to sign up for my Feldenkrais newsletter.
Choose your Feldenkrais Workshop
When life gets difficult the body responds with tension and maybe even pain. Then you know some bigger changes are needed. Changing habits is difficult and often it seems easier to turn to medication which comes with side effects.
The Feldenkrais Method is more than a simple exercise program. Working the Feldenkrais way can change your way of thinking and open doors for you. But new habits take long to establish. To turn your life around you will need to invest some time as well.
Are you looking for help concerning a special issue?
All workshops will have a specific focus. Nevertheless each Feldenkrais lesson will address the whole body.
Or are you ready to make bigger changes in your life?
If your life situation allows consider combining the workshops with regular weekly classes. The more the merrier. You will be surprised how much you can change in a short time.
These workshops are different
You are pleased to know that Online Feldenkrais Workshops are not the usual Zoom meetings.
Why? Because firstly you point your camera towards yourself so I can see you. This way I can guide you safely through the classes. Secondly my instructions are purely verbal so you do not need to look at the screen. Actually no one does except me. You create your own safe space at home and I'll help you to make your wellbeing your priority.
At the end of each Feldenkrais workshop we are having a little social where you can ask questions and share your discoveries with the other participants.
Book your Feldenkrais Workshop
You can book directly via the link "REGISTER for Workshop" or click on the picture. The English confirmation email comes with the link for the Zoom meetings and will include information about the payment. You'll find information about the PRICING here.
Book at least 2 weeks in advance to benefit from the early bird offer.
Under PRICING you'll find all information on prices of my Feldenkrais Workshops including the Early Bird offers.
In case of further questions check out my FAQ section below or send me an email to info@movingexperience.eu. (No worries if you can't find the Umlaut. You can use ae instead of ä: Baerbel.)
Frequently Asked Questions (FAQs)
---
Bärbel Rücker, UK Guild certified Feldenkrais practitioner
After 4 years of Feldenkrais Practitioner Training in Switzerland I am a certified Feldenkrais Practitioner since 2017. Since then I am sharing my knowledge about this amazing method in private classes, group settings and online.
To keep myself up to date, I regularly participate in advanced Feldenkrais Trainings in Europe. As much as possible I am joining the daily Feldenkrais practitioner study-group "An AY a Day" for my own development. Being a student myself helps me to relate better to my students and keeps me grounded.
I am looking forward to explore the benefits of the Feldenkrais Method with you.