In March 2020 I will be DJ'ing again together with my partner Paul Strudwick at the Winter tango 2020 in Lillehammer. This tango weekend is organised by Sissel Berg and TangoBanco, the tango club in Lillehammer.
The event is described as followed:
"Winter tango, which will take place at the Hornsjø mountain resort 6-8 March, is all about good music and a great social atmosphere, where everyone will get to dance "a lot with many". Think of an intimate milonga setting where understated dance movements are more appropriate than high boleos; this event will suit everyone who likes to be able to dance in harmony with the other dancers on the floor. Rather than classes, there are practicas during the day and milongas in the evening, all with music provided by two DJs.
For those who'd like to take a break from tango during the day, there is great cross country skiing on prepared tracks in the Hornsjø area. The hotel has a swimming pool and a sauna."
The Registration
The registration opens 1st December 2019 12:00, noon (GMT+1).
Follow this link: www.deltager.no/wintertango2020.
The Venue
Hornsjø hotell, Lillehammerfjellet, Lillehammer, 2618, Norway
Further information
---
Previous Winter tango 2019 program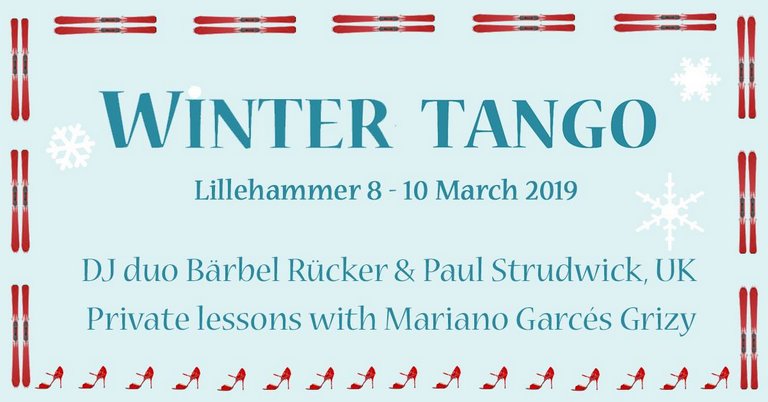 Thursday 7 March 2019
7 – 11 pm Pre-Milonga in the city with DJ DUO Bärbel & Paul
Friday 8 March 2019
19.00 Welcome drink in the bar
20.00 Dinner
21.30 Milonga with DJ Paul
01.00 Evening snack
Saturday 9 March 2019
08.00-11.00 Breakfast
11.00-14.00 Early morning practica with DJ Bärbel
14.00-15.00 Lunch
16.00-18.30 Afternoon practica with DJ Paul
19.00 Aperitif in the bar
19.30 Dinner
21.00 Milonga with DJ Bärbel
01.00 Evening snack
Sunday 10 March 2019
08.00-11.00 Breakfast
11.00-14.00 Early morning practica with DJs Bärbel & Paul
14.00 Lunch
15.00 Departure from the hotel.
Further information
---
Latest Posts