Private tango lessons are available at all levels: Beginner, Intermediate, and Advanced. In addition, private classes also offer the possibility for dancers to work on their own personal Tango style. The starting point for the class will be the individual's needs, according to either the individual's expressed preferences or the instructor's evaluation.
This is an effective approach for learning, and is also useful when combining with other kinds of classes.
The individual will benefit greatly from the private classes, either as leader or follower. Lessons can also be offered to couples.
Bärbel Rücker teaches in English, German and Danish.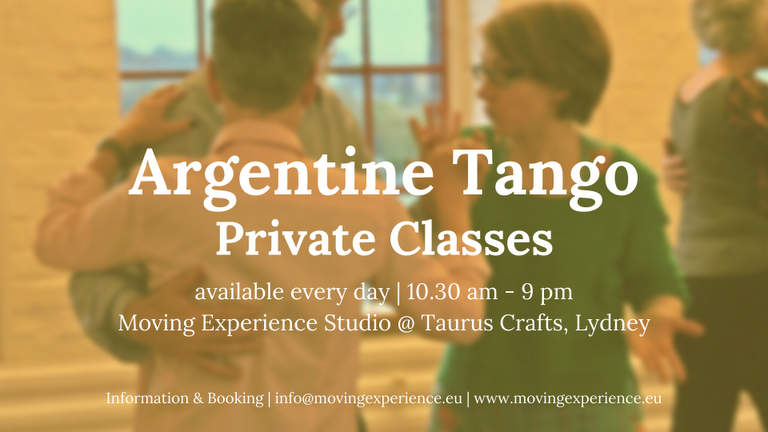 ---
Stay informed about upcoming Feldenkrais and Tango classes & workshops!
Booking Private Tango Tuition
Get in contact e.g.
to book your private tuition,
if you prefer 90 minute sessions and
if you want to work with me but need other dates to fit into your schedule.
Private tango tuition is possible every day between 10.30 am and 9 pm. Get in touch to discuss your options.
See availability in the calendar to the right. The calendar shows tango classes & booked private classes with Tango Teacher Bärbel Rücker.
Available time slots of 60 minutes are either 'empty' or marked as 'Book your Private Tango Tuition'.
Booked times are shown as 'Busy'.
Please check time zone shown in the left lower corner!
The Venues for PRIVATE CLASSES
The private tango classes take place at:
Moving Experience's Studio @ Taurus Crafts, Lydney, GL15 6BU, Gloucestershire
Newland Village Room, GL16 8NP, Gloucestershire
Parkend Memorial Hall, Folly Road, Parkend, GL15 4JR, Gloucestershire,
ROOM HIRE
The cost of room hire is paid in addition to the teaching fees and if possible paid directly to the venue.
Moving Experience's Studio @ Taurus Crafts = FREE
Newland Village Room = £8/h room hire
Parkend Memorial Hall = £10/h room hire
To save you the cost of the room hire I am willing to travel to you or a venue of your choice if it's conveniently located and can be worked into my regular teaching schedule.
PARKING
Parking at Taurus Crafts is no problem. The place has a big car park and parking is FREE.
There are only 2 parking spaces available at the Newland Village Room. There was the suggestion to park along the street close to the hall or considerate down in the village! Plan enough time to park your car. 🙂
Get In Touch
---
What Students Say / Testimonials
Firstly, we thoroughly enjoyed our lesson yesterday and came away feeling excited and exhilarated by the prospect of the Tango journey we have started. In particular, we really enjoyed your teaching style together with your depth of knowledge and clear passion for the dance. Thank you.

Marina & Stan
Much appreciated your presence. Private lesson was exceptional due to the way you tune with us. We're already experiencing the change and improvement and most of all more fun. Take care 🙂

Giovanni S.
For at få en førsteklasses introduktion til det argentinske tangounivers, bookede vi en privat undervisningtime med Bärbel. Det var både sjovt, lærerigt, udfordrende og meget brugbart. Efter kun én time med god instruktion i musikken, rytmerne, de første trin, tangostemningen m.m. kunne vi forsætte dansen alene hjemme i køkkenet. Bärbel er en virkelig dygtig og inspirerende danseinstruktør, det formår at tilpasse undervisningen et hvert niveau. Vi vil helt sikkert igen prøve kræfter med den argentinske tango. Tak for en god aften!

Rikke og Mikkel