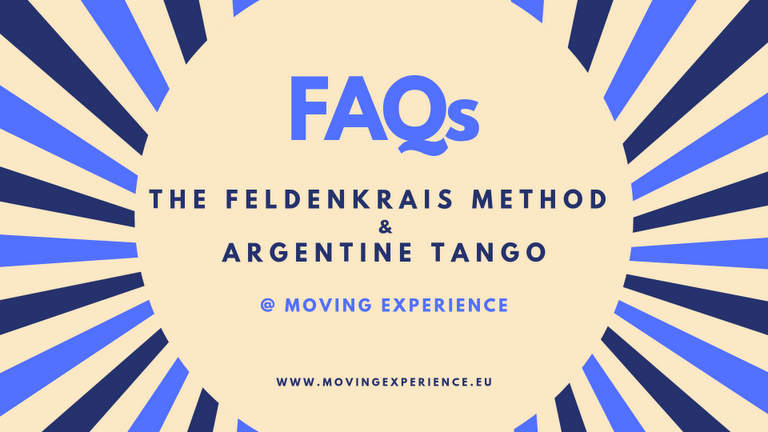 FAQs – The Feldenkrais Method & Argentine Tango
Trying something new comes often with a bunch of questions. I hope this collection of FAQs are able to answer most of them.

At the moment you'll find questions & answers about The Feldenkrais Method. Very soon more general questions and subjects about the Argentine Tango will be added.
Get in contact via email info@movingexperience.eu if you are missing the answer(s) to your question(s).
 Subscribe to my mailing list and be informed about upcoming Feldenkrais and Tango classes & workshops!
The Feldenkrais Method
What should I wear for a Feldenkrais class?
Chose comfortable warm clothes which allow you to move freely. Layers are good.
In many Feldenkrais classes you will do slow and small movements. Even in a warm room you might get a bit cold. 
.
Do I need to bring some special equipment to a Feldenkrais class?
Not really. If you can please bring: a (yoga)mat and blanket, some water and curiosity.
Best to check with your Feldenkrais teacher. 
Moving Experience has a small amount of yoga mats and blankets for those who don't have their own (yoga) mat and blanket yet. 
.
How long is a Feldenkrais group class?
In general a class is between 45-60 minutes long. Allow some time afterwards to settle.
Diving into the world of sensation and self awareness can be very tiring or energizing. It differs from person to person and from lesson to lesson. Just make sure you plan enough time afterwards for your way home.
Moving Experience allows you some time after the classes so you don't need to rush out. 
.
Is a Feldenkrais class suitable for 60 plus?
YES absolutely! No one is too old to learn something new! If some movements are difficult you simply do them in your imagination.
In the Feldenkrais work we are using small gentle movements to improve your self awareness. You improve the way you move now and (re)gain comfort and ease no matter what your age.
A lot of the classes are on the floor and your Feldenkrais teacher will make it easy for you to get down and to come up again. It will get easier each time anyway.
.
Is Feldenkrais for men too?
YES. The Feldenkrais classes will help you no matter what age or gender you are.
The Feldenkrais Method is about learning and your gender, age, profession or nationality doesn't matter as long as you are open minded and curious you can benefit from it.
.
.
.
ARGENTINE TANGO – FAQs
.
What should I wear for a Tango class?
There is no dress-code. Wear comfortable clothes which allows you to move freely.
It's so simple like that. 🤓
.
What kind of shoes should I wear?
In the beginning light outdoor shoes with smooth non-grip soles are good. They should fit tightly around your foot.
Another good option is to bring 1-2 extra pairs of thick socks. Dancing in socks helps to feel the floor and to loosen the fear of hurting each other in case you would step onto each others toes. 
😉 🧦
.
---