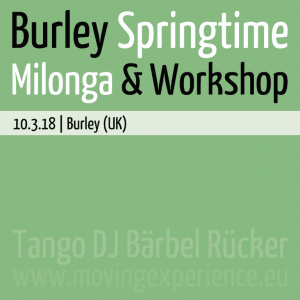 For the first time I will be meeting the tango scene of the New Forest as Tango DJ & Teacher. On Saturday 10th March 2018 I have the honour to be teaching a 90 minute tango workshop before DJ'ing the Burley Springtime Milonga. 
In December 2014 I was enjoying the Burley Tango Festive SPECIAL – Milonga ONE where my partner Paul Strudwick was in charge of the music. My video from that day.
Burley Springtime Milonga Event
A magical Burley Tango Event in the beautiful New Forest, welcomes the first days of spring with a Tango Workshop, a Matinee milonga followed by an Evening Session.
The Workshop 'Tweaking Your Tango'
I will demystify Grounding, Balance & Dynamics to really put you in control of your dance as a leader and follower.
Please bring thick socks as well as your dancing shoes.
It is not necessary to sign up with a partner. We are going to move alone and with changing partners, also changing roles in order to understand the movement better.
The Milongas
The music will be traditional and spans from 1920s up to 1950s.
Your DJs will be Bärbel Rücker & Brian Chivers.
Schedule
12:45 to 2:15 – Tweaking Your Tango
with Tango teacher Bärbel Rücker
2:15 to 2:30 – Short break, tea and nibbles
2:30 to 6:30 – Matinee milonga
with Tango DJ Bärbel Rücker
6:30 to 7:30 – Shared meal
We will put tables out for everyone to eat and share as always or you can just visit one of our lovely pubs nearby.
7:30 to late – Evening Milonga / After party
with DJ Brian Chivers.
Donations
Workshop £12
Workshop + matinee milonga £20
Matinee milonga only £10
Matinee + Evening milonga £18
All day (workshop, matinee & evening milonga) £26
Pre-booking is available by messaging Brian Chivers on brian@seenite.com to ensure a place.
The Venue
Burley Village Hall, Pound Lane, Burley, Hampshire, Bournemouth, BH24 4EB